What is LinkedIn, how to use LinkedIn for Job and Business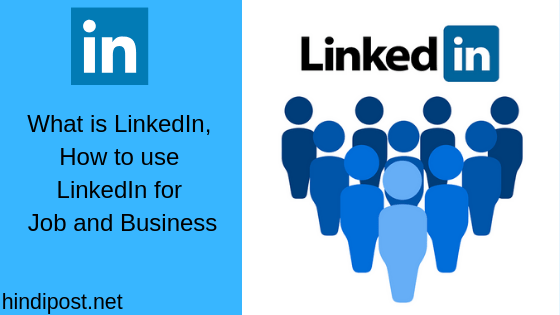 Hello Friends, You must have heard about Linkedin if you are not using. In today's post, I am going to talk about What is LinkedIn, how to use LinkedIn for Job and Business?
 What is LinkedIn:
A former Vice President and in charge of development and business cooperation for Pay Pal "Reid Hoffman was the co-founder of LinkedIn.
Officially launched in May 2003, it is the social networking site that is designed for the help of the business community.
LinkedIn allows its members to grow their business, establish networks of professional and trustworthy people.
On LinkedIn, the profile page of registered members emphasizes their skills, employment history, professional skills, connections with social marketing teams and news feed of companies with customizable modules.
It will allow you to create a professional portfolio that'll help you to break into the world of jobs.
Similar to other social media marketing platforms, LinkedIn requires members to build their connections with people to establish a pre-existing relationship.




A registered member can establish connections with someone he/she knows on a professional basis, go school or college with or start working with them.
For having better access to the contacts of the LinkedIn database, one can go for Premium Subscription.
A person is not allowed to contact a person without a LinkedIn introduction and can be seen as six degrees away from the member's network.
Similar to Facebook, Twitter, and other social media networks, LinkedIn also uses an algorithm for updating all the connections.
This will allow users to experience the best of LinkedIn as a registered member one can experience the LinkedIn feed that is similar to Facebook Feed that provides them the continuous stream of connections.
LinkedIn that was founded in 2003 is currently dealing with 300 million members from almost 200 plus countries.
According to its co-founder, almost 27% of members of LinkedIn are recruiters and representing different industries.
In 2016 Microsoft acquired LinkedIn only in just $26.2 billion.
LinkedIn has gathered the data of more than 225 million profiles in the form of an Economic graph that will help align workforce by giving data-driven insight into patterns.
 How to use LinkedIn for Job?
How can you use LinkedIn to search for a job?




No doubt that LinkedIn is the most professional social media platform that allows students and professional workers to build a network and look for different job opportunities according to their knowledge standards.
Authenticity is the first point that will make your profile highlight on LinkedIn.
Here I am going to share some tactical hacks that will help you in exploring LinkedIn and its benefits.
These tips will help you to build your professional network, portfolio and get your job.
Tips to get Jobs on LinkedIn
By following these tips, one can use LinkedIn with maximum efficiency and get a secure position in any company.
Profile of LinkedIn: Keep your profile up to date for example; members with profile pictures on their LinkedIn account can receive more page reviews 14% more. Post your skills on your profile it will make visible your profile to different companies.
General skills and experiences: Always practice comprehensiveness in the case of skills and objectivities. In the headline, mention your main objectives and highlight your skills on your profile.
Mention recent experiences: Have you ever worked with any other company? Do you have the experience of handling social media marketing? No matter, what are your job criteria, if you have any recent working experience then highlight this also with your skills.




Show your availability: If you are looking for a job then mention this also on your profile's headline and announce your availability for doing a specific job related to your skills.
Building 1st Degree network: For building your 1st Degree network, people have to increase their experience exponentially and get easy access to many other networks.
Research your interested companies: With excellent use of an algorithm, LinkedIn makes it easy for you to find your favorite companies and make connections with them. By following those companies on LinkedIn, you'll automatically get the latest news feed about them and new job positions that they are offering.
These are the crucial tips that you can follow to get a new job on LinkedIn.
How to use LinkedIn for business?




Are you still confused about LinkedIn? Don't know how to use LinkedIn for your business?
It is the best marketing tool not only for job seekers but also for company owners.
No matter, if you want to create leads, building your own business, want to introduce your brand, or want to make connections in strategic partnerships, this social media platform that allows you to more than 450 billion talented and professional employees.
Here are the basic tips and tricks that one can follow to promote their business, product, and services with the help of LinkedIn business page.
Let's start important business promoting tips:
Complete your LinkedIn Profile: For promoting your company in the world of digital marketing, first, start with your profile. There are different techniques to impress your viewers with your profile page. Your LinkedIn profile is the peak that allows people to form the mountain range of your business.
Complete your company page: Your next step is to make an active company page that'll work as your business profile on LinkedIn. Compose your page in the form that allows people to learn about your brand, its job opportunities and details about your workers.




Define your business goals: What is the main purpose of your business? With the help of marketing initiatives, define your business goals such as generating leads and making people aware by raising your brand. By clearing your business goals, it'll become more efficient to define your audience.
Mention company followers: Try to increase your company followers because it will make it easy for you to increase the potential of your publishing. Mention about your employees, their achievements, business priorities on your page. Addition of the following button on your page will help you to promote and expand the circle of your brand.
Engaging content:
Try your best to publish engaging content on your business page that defines everything about your brand, its goals and job positions.