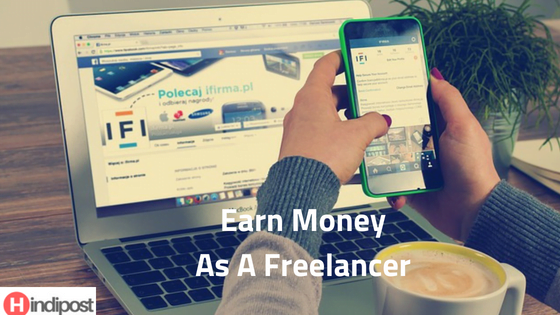 Friends as we all know the growing popularity of making money online and work as a freelancer. but do you really know how to make money as a freelancer? In today's post, I am going to talk about who is a freelancer how to earn money as a freelancer, what are the opportunities and how much one can earn as a freelancer.
Who is a freelancer:
A Freelancer is a self-employed who offers services to clients based on usually a limited-time contract. Freelancing has become common nowadays, with most people opting for it due to its ease of working from anywhere, plus a decent income source besides the mainstream job timings from 9-5pm. Some dedicated and successful individuals freelance as a full-time job and earn accordingly. Now I will talk about how you can earn money as a freelancer.
How to earn money as a freelancer:
The plus point about freelancing is that the working hours are usually negotiable and you get paid traditionally based on your reviews and work quality.
Fiverr, Upwork, Guru, and freelancer.com are some common freelancing sites.
How much can one earn as a freelancer:
How much one depends upon various factors such as experience on a particular platform, the portfolio as well as work quality. Excellent communication is also a key to getting more response.
Clients usually prefer freelancers who not only produce quality work but are fluent in English (or whatever language the client communicates in) for an easing experience.
When a Freelancer starts on a platform, he usually sets his bid rate low, but as he gains experience and good reviews, this rate gradually increases. Here are some of the earning rates for some freelancers:
Writing:
The entry-level writing rate per 500 words is $15-60, while that of an experienced writer is somewhere between $60-150 per 500 words (or per hour). These are by the statistics of 2017.
The writing involves blogging, content writing, taglines, product reviews and descriptions, SEO( Search Engine Optimising) articles, essay writing, article writing, and poetry. You can earn by all your writing skills under the sun.
Mobile / OS developing:
The entry level pay rate for mobile and OS developers is somewhere between $30 to $100 per hours, but this rate varies highly depending upon a geographical location. Other regions such as Shanghai and Australia pay $200 or more to expert developers, while regions such as Asia pay less than $100 to get work done.
Graphic designing:
The pay rate of a graphic designer on average is about $30 per hour. Most entry-level freelancers start at $10-15 per hour, while experts $60-100 per hour. Of course, the rate varies depending upon experience and portfolio.
Voice acting:
The hourly rate for voice artists is about $25 to $125. A voice artist earns much more and much rapidly depending upon his level of experience as well as his voice talent.
Data entry:
A data entry clerk on freelancing sites usually earns about $9-$17 per hour. Some even charge as low as $5 per hour. Data entry usually requires at least one year experience in using MS Office especially Excel and Word.
Opportunities for Freelancers through freelancing sites:
1- Upwork:
Upwork is an extraordinary place to discover more customers, and to run and develop your own independent business. On Upwork, you maintain your own business and pick your customers and projects, depending upon your skill set.
Customers and clients posts jobs in several skill classifications, paying best for incredible, high-quality work. Upwork has twelve million enlisted freelancers and five million clients.
This site offers both a fixed price as well as hourly jobs. The more unusual the achievements and quality portfolio items you have, the more probable you are to get employed by customers that utilize Upwork.
Once known as Elance-ODesk, Upwork is a comprehensive freelancing site where organizations and autonomous experts interface and team up remotely. In 2015, Elance-ODesk was rebranded as Upwork, and its headquarters is situated in California.
2 – Fiverr:
Fiverr is an online commercial center for independent clients. The organization located in Tel Aviv in the year 2010. It offers a stage for freelancers to provide administrations to clients worldwide.
After you set up your initial profile on Fiverr, skills supplied on the site incorporate article writing, voice acting, visual communication, video altering, and programming.
Fiverr's bidding begins at the US $5 (which reflects in the name) and can go up to a massive amount of dollars with Gig Extras. Each bid offered is called a gig.
Fiverr has been growing almost as much as Upwork regarding the business value and has established itself as one of the top-notch freelancing sites in the market.
3 – Freelancer:
The site Freelancing.com is offering a great many activities besides just regular bidding on jobs; the official website "Freelancer" enables you to contend with different consultants in challenges to demonstrate your aptitudes.
In case you're aggressive and sure about your ability, it's an excellent method to grandstand your capacities and pull in more customers.
Regardless of whether you're searching for another approach to pay the bills, looking for more expert advancement openings or merely love the flexibility that outsourcing offers, doubtlessly that a massive number of individuals have found the advantages of using this freelancing website.
What is a portfolio and how is it essential for freelancing:
A portfolio is crucial if you want to be a part of the freelancing world. It is the gathering of past work and experience all possessed by an individual or association. Your portfolio includes all your work samples that prove your abilities as a freelancer.
The way toward assembling a collection will enable you to wind up a more powerful Freelancer among others without one. Other contractors will be able to distinguish the aptitudes you have increased through your different samples and how they identify with the profession you are keen.
Picking the most critical examples and placing them in an effectively comprehended configuration will enable you to express your aptitudes when made inquiries about your capabilities.
An expert portfolio will likewise demonstrate business evidence of your authoritative, correspondence, and substantial profession related abilities.
Conclusion:
The preferred primary standpoint of turning into a Freelancer is that you can work from wherever you want. You get the opportunity to pick your hours.
When you work for another person, you don't get to choose who you can accomplish. But when you're a Freelancer, you can pick with whom you work. You also have the opportunity to build up your profile steadily and earn a decent amount for yourself with time.
Some people end up taking freelancing as a full-time job after they start making some serious money.
Let me know if you like this post. If you have any question on how to earn money as a freelancer, you can write to me in the comment section and do not forget to share and subscribe to the latest updates.
Related posts: